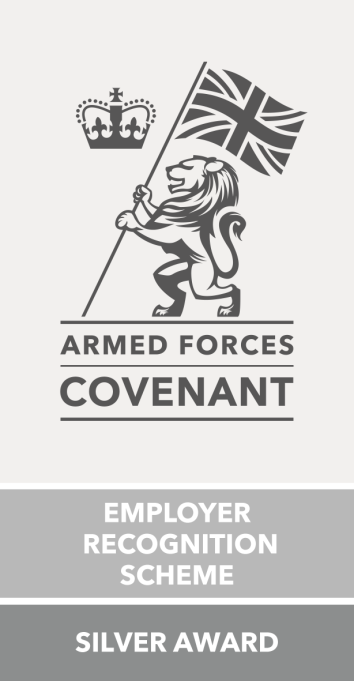 We were presented with the Defence Employer Recognition Scheme Silver Certificate for demonstrating our support to military personnel and their families and for pledging that support through the Armed Forces Corporate Covenant.
Eleven employers from private sector businesses in the East Midlands received awards at a ceremony at Kelham Hall, Nottinghamshire, last night, Wednesday 18th November.
Ben Slade, Chief Executive, SkillForce, said: "We are delighted to receive the silver award, which recognises our commitment to training ex-Service personnel and supporting their transition back into civilian life. They are our heroes, who have served their country and now wish to serve their community to inspire young people to succeed."
He added: "We recruit predominantly ex-Service personnel as instructors and mentors for our educational programmes, which help the young people of Britain to develop self-confidence, resilience and character – skills for life and work.
"Our veterans have changed the lives of 50,000 young people by preparing them for their next steps in education, work or training, and boosting pupil attendance, behaviour, aspirations and achievement."
Janet Ford, Head of Corporate Partnerships at SkillForce, attended the presentation event with colleague Steve Robinson (Development Manager, Military Liaison). She said: "At SkillForce we employ a number of veterans and service leavers who can use their experience in serving their country to now serve their community. Our people bring the values and experience of their military backgrounds to act as role models in the lives of children and young people with whom the charity works in partnership with their schools."
Earlier this year SkillForce signed the Armed Forces Corporate Covenant, which provides businesses and charities with an opportunity to publicly express their support for the armed forces community. Click here to find out more.
John Wilson, East Midlands Regional SaBRE Director (Supporting Britain's Reservists and Employers) organised the presentation event. He explained: "The Defence Employer Recognition Scheme recognises and rewards employers who show both commitment and support towards armed forces personnel.
"To achieve a silver award, each of the recipients has employed at least one member of the armed forces community, and has publicly declared their support by signing the Armed Forces Corporate Covenant, pledging to aid and assist their employees when needed.
"Showing flexibility towards training and mobilisation commitments of reservists, employing cadet force adult volunteers, veterans or military spouses or partners, shows a true sense of commitment. I would like to thank each of those being awarded for their ongoing support, and congratulate them on their awards."
"The event at Kelham Hall was a success, with many of the attendees commenting they enjoyed speaking to other employers about their experiences of employing Reservists and Cadet Force Adult Volunteers and the benefits this can bring to their business."
To find out more, visit www.sabre.mod.uk